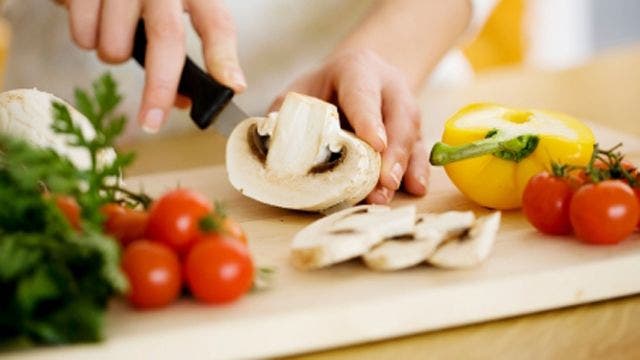 Take a pass on eating meat just one day a week and you'll reap these excellent benefits.'
1. Better Health
Animal foods, especially red meat, are among the largest sources of saturated fats in our diet. Eliminating meat―beef, pork, lamb, poultry―one day a week can reduce your risk of dying from heart disease and some cancers.
MORE FROM REAL SIMPLE:

14 Shortcuts for Everyday Tasks

5 Things Worth Admitting To

5 Ways to Increase Your Will Power
What's more, "cutting down on meat encourages people to eat more vegetables," says Marion Nestle, a professor of nutrition, food studies, and public health at New York University, in New York City. Adding a serving of produce to your diet each day (say, ½ cup of melon or broccoli) may lower your risk of heart disease by 4 percent and your risk of stroke by 6 percent.
2. More Money in Your Pocket
Consuming less meat boosts your bottom line. The average cost of a pound of sirloin is $6.20, compared with 90 cents for a 15-ounce can of beans, according to the U.S. Department of Agriculture.
If a family of four replaces a steak dinner ($9.30 for 1½ pounds) with a fresh bean and vegetable salad ($1.80 for two cans of beans) once a week, they will save $7.50. After a year, that's an extra $390.
3. A Greener Planet
The livestock industry creates almost a fifth of all greenhouse gases and takes up 30 percent of the earth's usable land, according to a United Nations report. (Vegetables and other produce don't even come close.)
Eliminate 1½ pounds of meat (about what a family of four eats for dinner) once a week, says Gidon Eshel, a professor of physics at Bard College, in Annandale-on-Hudson, N.Y., "and you'll get almost the same benefits as trading in a standard sedan for an ultra-efficient Prius hybrid."
Read more:
http://www.foxnews.com/health/2013/01/08/3-reasons-to-eat-less-meat/?intcmp=features#ixzz2HULFKj1e